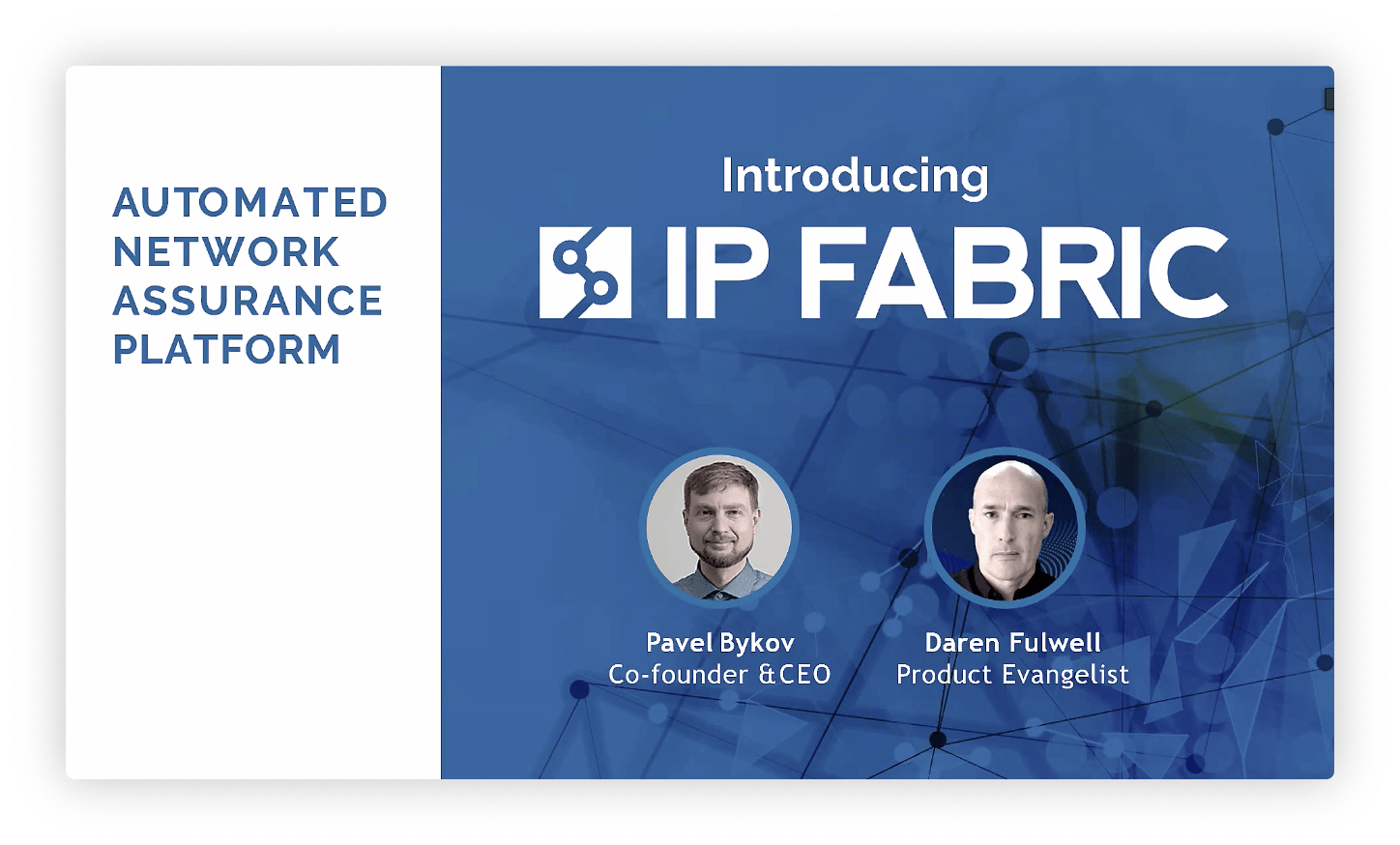 Who is IP Fabric?
IP Fabric started off Network Field Day 23 and they grabbed my attention quickly. As with almost every vendor these days, they started their story with network automation. The CEO and Co-Founder Pavel Bykov didn't want to spend as much time on creating and maintaining scripts. Instead, he set out to create a vendor-agnostic toolset that could provide answers not only to the networking engineer but also to other silos. They do this in the midst of the technical debt that litters most corporate networks.
IP Fabric wants to verify that the network is actually meeting the business intent across the network. They do this across platforms and vendors. They see themselves as a data warehouse for the network by taking information from devices, normalizing it, and then providing a user interface to query and visualize the network.
But What Does it Do?
So what does this all mean? Well, I see it first as a network documentation tool. We all know that documentation is generally low priority and is mostly out of date hours after it is written. They have all of the data which allows them to generate up-to-date network maps as well as compare them to previous network states to help identify changes. As a result, reports can be made for asset management, code revisions, and other data.
Beyond the documentation aspects, IP Fabric applies rules to find deviations from the network intent along with any issues. Out of the box, IP Fabric has around 100 verifications that are run against the network data. All of these can be customized and new ones can be created by the customer. Using the forwarding tables collected into the network model produced by IP Fabric, you can also create path traces through the network. This could be used by network operations or other teams to figure out if a certain flow would work on the network and if not, where it would be dropped.
My Thoughts on IP Fabric
Network visualization products are not new, but having had the chance to use IP Fabric in a production network recently, I would say this is different. First, it's lightweight compared to its competitors. A single OVF file got me up and going within an hour. Even the discovery process was quick. A network with 400 network devices and over 50,000 hosts was discovered in around 15 minutes.
Almost immediately we were able to see insights about the network. As we viewed the data, the tool clearly highlighted many of the insights found by the tool. The goal of the exercise in my case was to create a network diagram of a certain area of the network and produce a device inventory that included model and software version information. Within four hours we had downloaded, installed, and used IP Fabric to produce this information for the network manager. All in all, we were impressed.
The only negative that I've seen so far is that the mapping tool requires a lot of manual manipulation to get easy to read maps of complicated networks. Development seems to be fairly rapid with the product. I look forward to the better automatic organization of network devices in future releases.
To find out more about IP Fabric, be sure to take a look at their website at https://ipfabric.io.
The Demo
Disclaimer: This is my opinion and mine alone. Tech Field Day delegates do occasionally receive "swag" from vendors, but this does not influence my view of the vendor or its products.