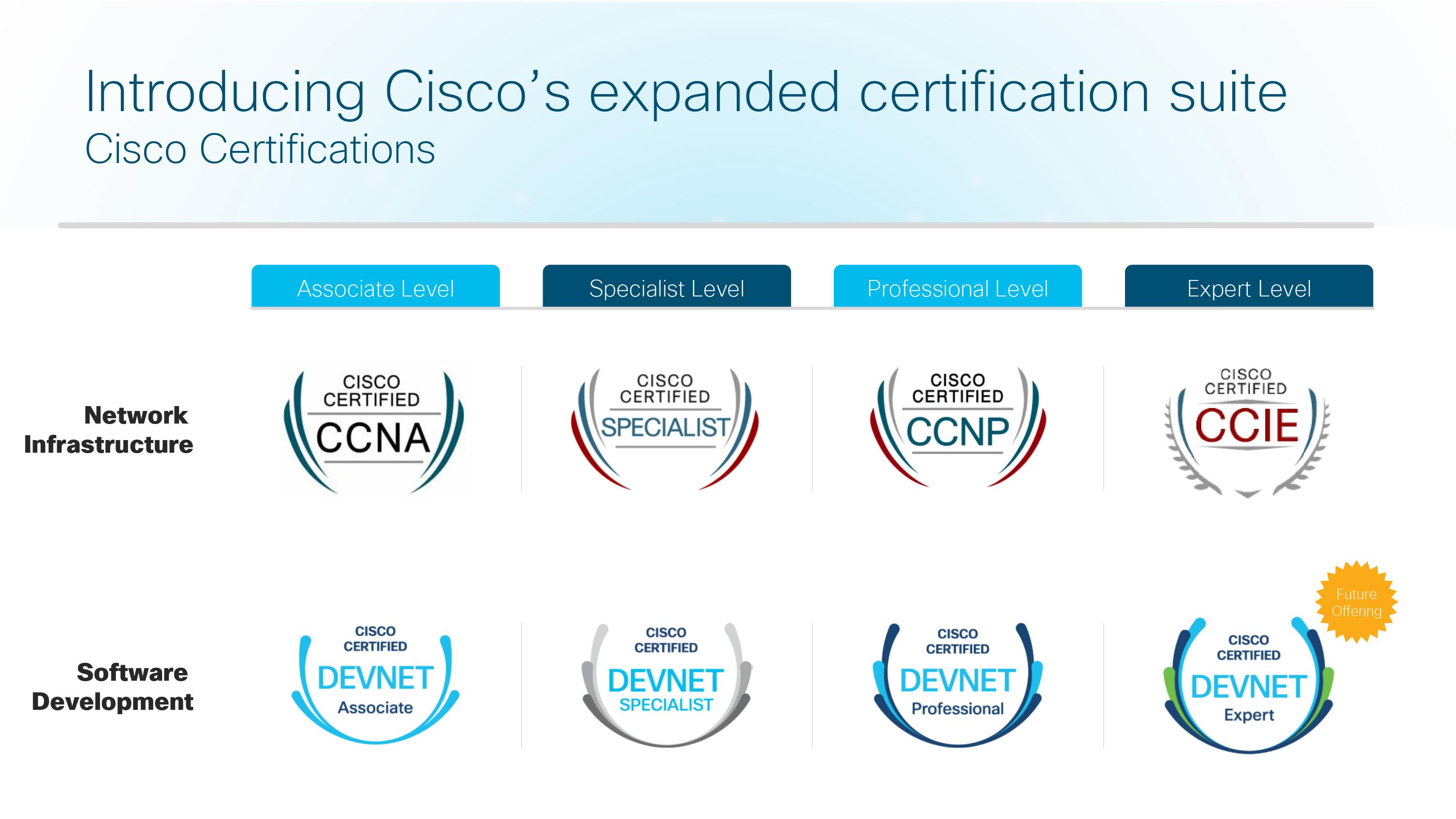 ---
UPDATE: Go over to my latest article about the Cisco Certification reboot after reading this article for more information and updates.
---
Today during the opening keynote of Cisco Live 2019, new announcements about Cisco Certification were made. Fasten your seat belts, we're going for a ride.
One CCNA to Rule Them All
The first major part of the new certification program is that the CCNA is just the CCNA again. There will only be the one track with one exam #200-301. This means that like Thanos, Cisco is snapping their fingers and snapping a lot of certifications out of existence. Thankfully they do have plans for making current certification holders whole which I will discuss as well.
Badges, Badges, Everyone Gets a Badge
To help certification holders distinguish themselves in different technology areas, Cisco has created a Specialist designation. Every exam except for the CCNA will earn a Specialist certification badge. These will to me be the gamification of certification. I'm not sure how these will play with human resource types at first, but eventually I believe that they will probably hold as much weight as the CCNA tracks do currently.
CCNP and Beyond
Beyond the CCNA the CCNP will also be changing. At the CCNP level there will only be two exams required for all of the tracks. You will complete a core technologies exam and one of multiple concentration exams. For example, in the CCNP Enterprise (combines Wireless and Route/Switch) you can take the core exam plus a Wireless concentration exam and become CCNP Enterprise.
One thing that you will quickly notice is that the design certifications at the Associate and Professional level are now gone. But you can use a design concentration exam at the CCNP level. At least currently it looks like the CCDE will remain as it is currently.
Re-certification
Another big change to the program is the re-certification path. In addition to the traditional way of taking another exam at the same or higher level, there will be a continuing education option for all levels. These continuing education credits can come from Cisco Live! courses, instructor or online training and authoring content. More details on these options and potential other options will be coming out over the next months. The option to use another exam to re-certify is also still an option.
DevNet
For several years Cisco has been heavily investing into the DevNet program to help engineers learn the new software defined networking skills needed. These programs have continued to evolve and expand. The certifications program reboot includes something new to reflect this.
My Thoughts
I was able to hear about these plans before Cisco Live and I will say that my initial reaction was a gut punch of sorts. Cisco was completely changing up the Cisco certification program. Also some of the certifications that I had worked hard on would be going away. Now that I have had a chance to digest the information I think that things will be fine going forward. That being said I do have some reservations still.
First with the design track, why are they lowering the emphasis on design below the CCDE by removing the CCDA and CCDP certifications? I hope that this means that there will be more design in the core technologies exams, but time will tell. I still see the design track as a needed set of skills. That being said in the new certification program there are no prerequisites so if you feel you can do it, go for the CCDE.
My other concern is with the CyberOps track. After millions of dollars being pumped into scholarships for this program by Cisco, it seems very weird that it's disappearing. If anything I was expecting a CCNP CyberOps program to be announced today. At this point I figure I will complete my CCNA CyberOps this year and see where Cisco goes with it in the future. Thankfully for cybersecurity, it's not necessarily about a single manufacturer and there are several very good vendor neutral certifications available.
You can learn more at Cisco's website about these changes here.